Voucher for personal financing advice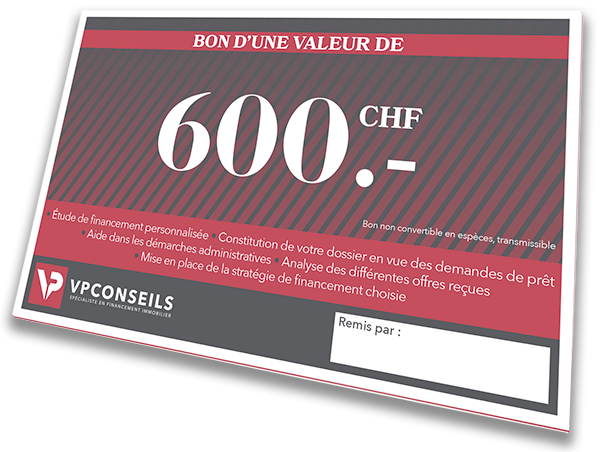 VP Conseil gives you vouchers worth CHF 600.-. Your customers will benefit from a customized financing study (file constitution for loan applications, assistance in the various steps, analyzing the different offers received and implementation of the financing strategy) all without paying a dime.
Your customers are immediately taken care of and know how they can acquire the property coveted.
The agreements with our partners allow us to confirm customers a financing agreement within days.
Following the transaction can be quickly considered.
Our customers and partners
WHAT THEY THINK ABOUT US
"Un conseil aimable, personnalisé, rapide, efficace et avantageux! Nous sommes très heureux d'avoir été dirigés vers VP Conseils, que nous recommandons à notre tour."
"Nous avons fait appel à VP Conseils pour nous guider dans le choix de la meilleure solution de financement pour notre appartement. Outre les nombreux conseils, sur la construction du financement, nous avons pu bénéficier d'un avis objectif et impartial et cela nous a permis d'économiser du temps et de l'énergie pour un résultat probablement meilleur que si nous avions discuté directement avec les établissements financiers. Nous ne pouvons que recommander le professionnalisme et la disponibilité de ce spécialiste."
"VP Conseils nous apporte une véritable plus-value dans l''analyse préalable des demandes, leur présentation selon nos normes et l'accompagnement des clients lors de la signature de contrats. Nous gagnons ainsi du temps et travaillons de manière plus efficace, ceci nous permet de prendre plus vite position."